Ex vivo lung slice model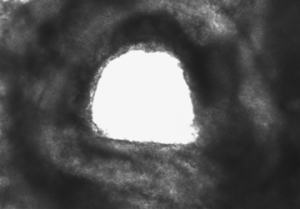 Precision cut lung slices provide a model system to study various aspects of airway and lung physiology and pathophysiology. Aspects that can be recapitulated include airway narrowing, emphysema and alveolar repair, airway remodeling and inflammation. Treatments can be added at the initiation of the culture or following exposure to stimuli (i.e. TGF-β, elastase). Slices can be prepared from animal or human tissue.
The key advantage of this model is that all lung cell types are present in their natural architecture and cell-cell contacts and cell-matrix interactions are preserved. Moreover, a large number of lung slices can be prepared from a single lung specimen, which does not only reduce the number of animals needed but also allows the direct comparison of experimental treatments with a control from the same animal or patient.
Read-outs
Airway narrowing
Type II cell number
Emphysema by mean linear intercept
Gene expression patterns
Smooth muscle and extracellular matrix remodelling using Western Blot and histology
Inflammation using ELISA
Additional read-outs are available on request.
Models
Airway narrowing
The impact of your investigational compound on airway narrowing or pulmonary vascular function can be investigated using time lapse video microscopy. The impact of bronchodilators or vasodilator drugs on small airways and vessels specifically can be measured using this model. In addition, this model can be combined with in vivo models to measure the impact of in vivo exposure to disease stimuli and/or treatment with drugs on airway function ex vivo. We have shown efficacy of several bronchodilator drugs (e.g. β-agonists) in this system, both against histamine and allergen-induced contractions. Furthermore, we can investigate the efficacy of your compound against contraction induced by electrical field stimulation i.e. vagal stimulation.
Growth factor exposure
Growth factors, including TGF-β, induce airway remodeling in obstructive airway diseases. In lung slices, exposure to TGF-β for 48h induces airway smooth muscle remodeling and excessive extracellular matrix deposition. We have shown efficacy of PDE4 and HDAC inhibitors in this model.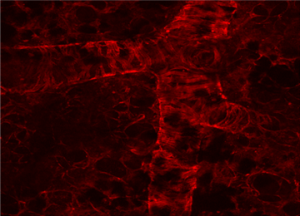 Elastase exposure
Elastase breaks down elastin, a structural component of lung tissue, and thereby contributes to emphysema in COPD. In lung slices, exposure to elastase induces emphysema, assessed by an increase in mean linear intercept, and affects airway narrowing and markers of alveolar type I and type II cells. This can be partially prevented by WNT stimulation.
Cytokine exposure
Exposure to cytokines, including IL-1β, induces an inflammatory response in lung slices. Although there is clearly no circulation, resident macrophages are present in the lung slices. Increased IL-8 release can be prevented by corticosteroids.
There are numerous possibilities for studies with lung slices, please feel free to contact use with your specific questions.
Previous publications
–      Wu X, van Dijk EM, Ng-Blichfeldt JP, Bos IST, Ciminieri C, Königshoff M, Kistemaker LEM, Gosens R. Mesenchymal WNT-5A/5B Signaling Represses Lung Alveolar Progenitors. Cells. 2019 Sep 25;8(10):1147.
–        van den Berg MPM, Kurhade SH, Maarsingh H, Erceg S, Hulsbeek IR, Boekema PH, Kistemaker LEM, van Faassen M, Kema IP, Elsinga PH, Dömling A, Meurs H, Gosens R. Pharmacological Screening Identifies SHK242 and SHK277 as Novel Arginase Inhibitors With Efficacy Against Allergen-Induced Airway Narrowing In Vitro and In Vivo. J Pharmacol Exp Ther. 2020 Jul;374(1):62-73.
–          Van Dijk EM, Culha S, Menzen MH, Bidan CM, Gosens R. Elastase-Induced Parenchymal Disruption and Airway Hyper Responsiveness in Mouse Precision Cut Lung Slices: Toward an Ex vivo COPD Model. Front Physiol. 2017 Jan 4;7:657.
–      Leus NG, van der Wouden PE, van den Bosch T, Hooghiemstra WT, Ourailidou ME, Kistemaker LEM, Bischoff R, Gosens R, Haisma HJ, Dekker FJ. HDAC 3-selective inhibitor RGFP966 demonstrates anti-inflammatory properties in RAW 264.7 macrophages and mouse precision-cut lung slices by attenuating NF-κB p65 transcriptional activity. Biochem Pharmacol 2016 May 15;108:58-74.