Mouse models of asthma
Features:
Ovalbumin or house dust mite exposure
Airway eosinophilia, cytokine production,
Airway smooth muscle thickening,
Goblet cell hyperplasia,
Subepithelial fibrosis,
Pulmonary vascular remodeling.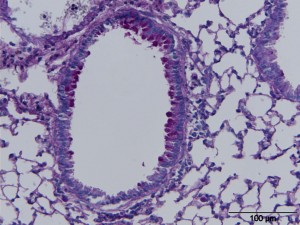 We have previously shown efficacy of anticholinergics, in particular M3 selective anticholinergics, in this model using C57Bl/6 mice. Both C57Bl/6 and Balb/c mice can be used. Balb/c mice have more profound eosinophilic inflammation, whereas the remodeling is comparable between these strains.
Previous publication
–        Kistemaker LEM, Bos IST, Hylkema MN, Hiemstra PS, Wess J, Meurs H, Kerstjens HAM & Gosens R. Muscarinic M3 Receptors Contribute to Allergen-induced Ariway Remodeling in Mice. Am J Respir Cell Mol Biol 2013.